It was a fitful night in the upper Midwest with severe thunderstorms and tornadoes. Here in my particular neck of the woods we fared well, but I woke thinking of the destructive force of nature...and of Otis.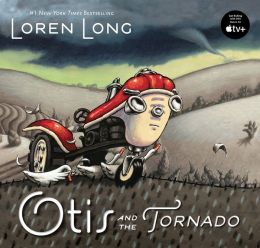 I had the great joy of hearing author/illustrator
Loren Long
speak at a conference a few years back. He shared sketches he'd done while working on the first Otis, and the transformation he made from the first tractor images (rather stiff and toy-like) to his final tractor images that stretch and move and practically jump off the page! He also talked about being a lover of film, and trying to think like a cinematographer as he imagined scenes before putting pencil to paper. This shows in his always interesting final art.
Otis and the Tornado is a charming book about friendship, emergency, doing the right thing, and through that, developing more and deeper friendships. But that's just the beginning.
In the classroom, Otis and the Tornado is an opening to talk with students about weather--especially scary weather and how to stay safe. It's a must-read for Severe Weather Safety Week, and that time when teachers and students in tornado-prone areas must do tornado drills.

As a science experiment
, students can make a tornado in a bottle--there are a number of lesson on the web with instructions on how to do this using 2 liter bottles, tape, and water. PBS Kids has a good one
here
.
For younger kids
, Loren Long has a coloring page, maze, and other printables on his site
here
.
This book could be used as a mentor text
for writing in the classroom as well. Have students write about a severe weather situation they have been in and what they did. Encourage them to write about how it felt to be there (both emotionally and physically--this is a good chance to write about what the five senses experienced), and how it resolved in the end. You could have your students read these aloud and discuss their feelings.
The weather has move out from here, but with all the severe weather in the news these days, there will be plenty of times when this warm and fuzzy book will be appropriate to pull off the shelf.
I wish you all a safe summer!